We all love that touch of class and fashion when it comes to our appearance. AIDI flashing products understand the need to add an extra touch of fashion in your dressing. This is why aidi have manufactured the AIDI Led Hat for you maximum pleasure.

As an added bonus. Using AIDI LED Hat when it comes to parties, gigs or occasions is simply amazing. It has multiple flashing lights which offer a special, flashy look to your dress. Using the LED Hat to helps to portray a better version of yourself.
The LED Hat Light Bands provide the best safety light for those looking to be seen at night. This highly visible LED and reflective light band allows motorists to see you for well over a 1/4 mile from dusk to dawn. The Hat is easy to adjust, is lightweight and is comfortable. Ideally, one size suits. Wear like a sash, a Hat or even around the waist. Nylon waist Hat with reflective material, and Hi-Vision LED light strip
Simplicity at its finest:
· Wear this hat over your head at night time or in low light, and you'll be visible from all angles.
· Lightweight Rechargeable USB LED caps. They can be plugged into any USB port, and are charged quickly.
· Good for mountain bikes, cyclists and walkers.
· They do not need an effective external source of light. It has its own brilliant, inbuilt light source.
· User friendly price, brand new. The Hat is made from the latest and advanced materials which give it a sleek and premium design.
· Washable LED hat. Just make sure the water doesn't get into the battery compartment.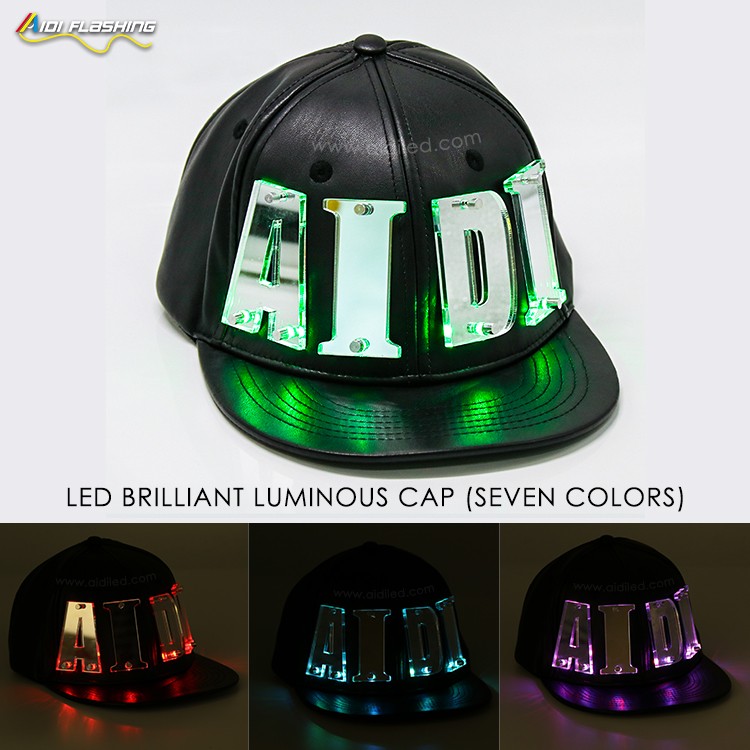 Why you lack of an Aidi Led Hat
• Good gift for loved ones LED light would keep your loved one safe. Customized with either fast or slow blinking lights. Maximum durability as the Hat can be used for a long time.
• LED Hats are fun accessories for parties, whether it's party life on the next rave or the bright lights you dance.
• LED lighted waistband increases visibility during night sports-seeing cars after dark while running, running or even walking.
• Contact mode of action-bright steady light, slow or fast blinking-better visibility than protective jackets or other sports reflective items.
This LED Hat is a multipurpose equipment to your dress, you can use it to shield yourself from the harsh sun rays, you can use it to enhance night time visibility and you can use it to top up your attire and stand out of the crowd in occasions.
This Bright Hat Is also A Lifesaver: It gives you 360 degree visibility. This is 100 times better than any other alternative as it reflects AND it illuminates the light around it. One would feel the need to wear this anyway. Cars will see you way ahead of time
You can use this hat for different occasion. You can use while on a stroll, you can use while going on your morning exercise, you can use it as part of your dressing for a night party or for an evening hangout. Whatever you choose to use our LED Hat for, it meets the need.
Convenient, Fully Customizable & Flexible-Change the light with just 1 click between "Light" and "Glow." Thanks to the quick-to-use clips, the LED Hat is no hassle to put on. The straps are easy to adjust and elastic for secure fit. You'll have total freedom of movement with the versatile design: wear it on different clothe as it fits perfectly
The Micro USB rechargeable battery (Cable Included) offers up to 20 hours of flashing mode lighting. No difficulty replacing batteries, and no extra costs. It's well-built and sturdily built on top of that.
AIDI flashing products remains the best when it comes to innovative and advanced products. Our LED hat is second to none and you would be very happy you purchased one of our LED Hats.
Welcome to visit www.aidiflashing.com for more details.