Technology has advanced in every area. Aidi understand the ever-evolving change, and Aidi are committed to giving you the best product available when it comes to pet products. Such is the case with our USB rechargeable blue LED dog collar.
The AIDI C24 LED dog collar is one of the brightest smartest LED collars available on the market currently. It combines technology with a sleek design and an innovative lighting system. Once you light up the collar, it will glow in the dark and in the daytime. This will make your pet more visible and keep it safe. The AIDI C24 dog collar can save your dog's life.
Features of the C24 Smart LED dog collar
Bright blue LED display
The AIDI C24 LED dog collar comes with a very bright blue LED display. The display can be customized, and it is very reflective, even in sunny conditions. It helps to keep your pet very visible irrespective of the circumstance or the environment.The collar has intelligence features LED display, and is water resistance. You can set and share text or information to get you and your pup in shape in no time! Why ? The collar features a ring of LED Screen lighting, which are controlled by smart phone app.Through Aidi Smart APP(both IOS and Android),allows pet parents to show any text or cute image on the led screen,you can text to show up doggy's funny name, and recently emotions, or daily activities,especially can show up your contact phone number, as well as an alert if your dog goes outside a designated area and lost, the good people saw him can contact you directly.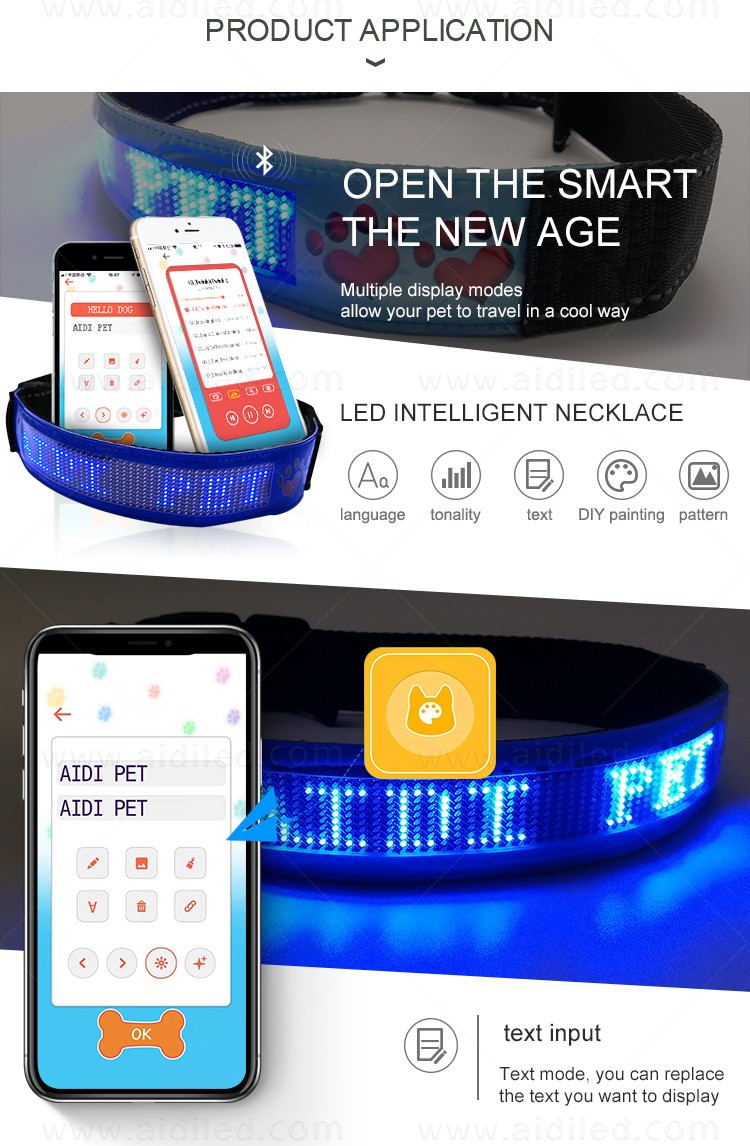 Easy on and off switch
The AIDI C24 LED dog collar comes with an easily accessible on and off switch, making it much easier to use. There is no complexity in making use of this dog collar. All you need to do is press the button, and it comes on or press the button, and it goes off.
Easy access charging port
The charging port for this LED dog collar is strategically located and easily accessible. The port is also durable, as you can charge multiple times and continue using it for a long while.
ABS Clasp
The LED collar also comes with a tight-fitting ABS Clasp to keep the collar tightly fitted. This is very good for active dogs, as you can rest assured the collar won't get missing.
Rustproof zinc alloy "D" Ring
You can use our pet collar in any condition as it comes with a rustproof alloy ring. This means water cannot affect the ring. Suitable for use and very durable.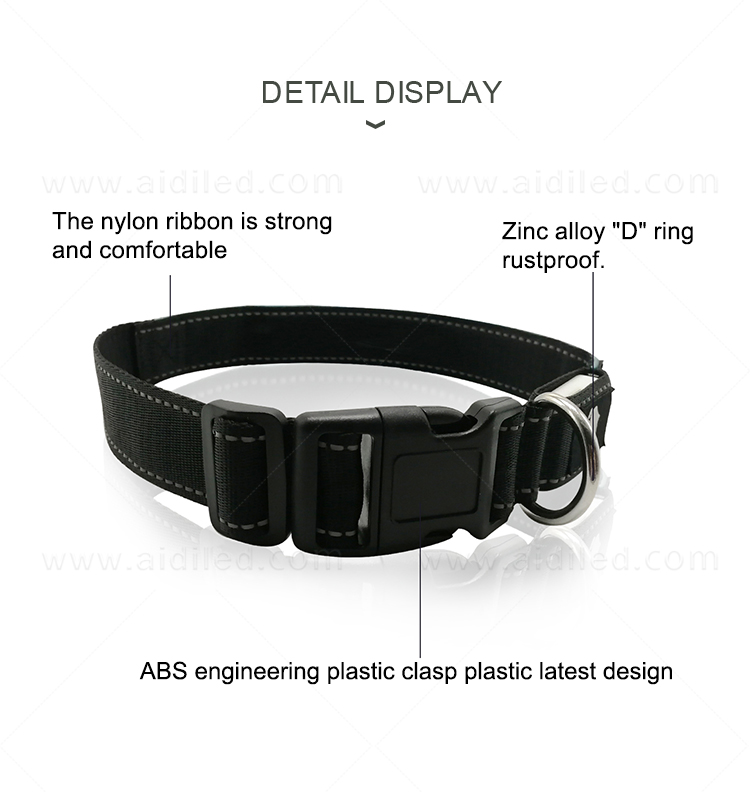 Adjustable length
Our pet collar can fit any dog size as it has an adjustable length. Regardless of you having a puppy or a gigantic mastiff, you can make use of our pet collar for any dog
Easy the Bluetooth connection
Our pet collar incorporates the latest technology and can be connected easily to your phone's Bluetooth. You can connect your phone and operate the dog collar from it. You can also customize the display text from your phone.
Super bright LED
This dog collar comes with a very bright LED light to keep your dog very visible and safe. The light is capable of shining in bright and dark conditions.
Why choose AIDI C24 LED dog collar
Classic design
AIDI C24 LED dog collar is manufactured using branded new led technology. It has a classic design and can be used in different customized forms. A perfect fit for any dog.
High visibility
This dog collar boasts 15 times more visibility than other pet collars on the market. You can confirm this from the numerous positive reviews by our many satisfied customers.
Life-Saving
With the high visibility of our dog collars, it can help motorists, cyclists, joggers, and car drivers see your dog and avoid accidents. High visibility ensures safety from all angles.
Pet is easily found
While going on an early morning walk with your dog, or taking a night stroll with the dog, it is easy to disappear into the darkness. Track your glowing pet collar, and find your pet very quickly.
Great value for money
Despite having the latest technology, Aidi offer the best pricing on the market. You won't have to break the bank to purchase one of our smart dog collars. The battery of our smart dog collar is long-lasting, and the general feature of this LED dog leash is very beneficial for any dog owner.
Final Words
With the love you have for your pet, you definitely should purchase the Aidi pet c24 dog collar for your pet. You would surely enjoy the product, and you have a customer support you can rely on if anything goes wrong. Happy shopping!!!